Summer seems to finally be here. It's been a perfect day with sun and not much wind. I don't like it too hot, and today was perfect. Thomas left early this morning to teach in Finland, so I'm home alone with all the dogs (plus two of my friend's dogs). I get plenty of exercise…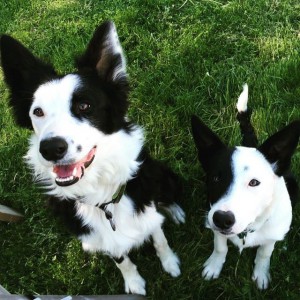 Wilco and Bud
Bud and I had a few fun sessions outdoors tonight. This video is way too long, but I really think it shows a lot of his personality. First, we played with two toys. He quickly learned to switch between toys on "ja!", and today I wanted to try to throw one toy away and get him to play with another toy. This is an important foundation skill that comes handy in many other exercises later on. I thought the floppy, fleecy toy would be more fun than the hard rubber toy (especially since he's shedding teeth like crazy). I was wrong!
He's learned jumping stand and I've started to add a cue to it. He doesn't know to hold his position, but I've still named the motion. He seems to know "sit" fairly well, so I add that in sometimes when working on new cues, to makes sure he's listening to what I'm saying. He nailed it today! We also worked on "sit" in higher arousal, when he was ready to tug and/or chase me.
Finally, we had our first session on shaping down. He was a bit tired in this session, so he started by offering a few very relaxed downs. In the last part of the (3 minute) session, he offered nice fold back downs.