This morning, we drove to Monopoli (south of Bari, on the coast) to look at a tunnel cup competition. A good opportunity to give my dogs some training in a very distracting environment. When I got there, I took the dogs for a walk around the competition (which was held on a soccer field in the middle of the city) and had a short session of obedience with Squid. Then I got back in the car to watch the men's skiathlon at the Olympics. I love cross country skiing – on TV 😀 It was very exciting, and couldn't have ended better. My favorite – Dario Cologna – is back from injury and won the gold, while Sweden's Marcus Hellner won silver!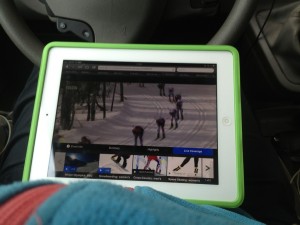 After that, I spend a couple of hours around the competition and trained both dogs. Squid worked on heeling, stand/sit/down from heel, long sits and distance control with a lot of distractions. She seems to like to get tasks to focus on when there are a lot of other dogs around. I think she likes not having to deal with dogs that she doesn't know, and focusing on her work is a good way for her to do that. She did very well, and I was very happy that I could get her to heel very calmly next to a tunnel cup! Epic did well too. We focused on some engaging games (tug, circle work, sits and nose touches) and some relaxing. He also got a little work out for his hind legs in a set of stairs close to the ring. I had a lot of fun with both dogs, and it seems like my efforts to get them out in the world more quickly pays off!
When we were done with training, I drove south to find a beach to walk the dogs on. I found the most perfect beach, and there was no one in sight, so the dogs could run free and have fun for a long time. They loved it, and so did I!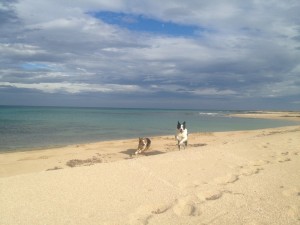 I then took the car up the hills behind Fasano, and had a great view of the ocean and saw a lot of traditional houses and beautiful views. I didn't find anywhere to walk the dogs, so we went back to the coast. I had a really nice lunch at a restaurant, and then took a nice walk by the sea as the sun set. We had a great day!