Today, I will report on how a day looks for Wilco, 8 weeks, and me. It's a very ordinary day. Nothing on the agenda and rain outdoors. Thomas is at a sheep dog trial, so I'm at home alone with Wilco and most of the grown up dogs. Ordinary days are very rare here, so I'll try to use it as well as I can.
7:10 – Wilco slept for eight hours and didn't wake us until our alarm went off. Good puppy! Now out to potty.
7:35 – Breakfast. Wilco eats Vom og Hundemat – a raw mixture of meats and bones. He gets the puppy kind, and loves it!
7:40 -A 12 minute walk with Squid and Epic. He can come on our short walks as long as he ignores the other dogs and doesn't do any other things that I don't like. I suspect that this time of no herding other dogs will pass soon, and he will not be allowed on walks with the other dogs unless I am actively training him to behave.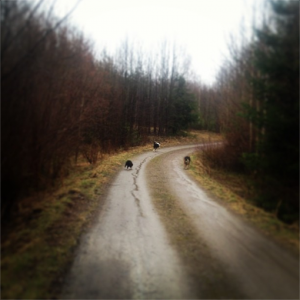 8:00 – Playing with his toys. Playing a little bit with Sisko (Sarek's sister, living with us for a week). Finally someone who wants to play with him! But she is a little too ruff, and play ends quickly.
8:20 – Asleep. Thomas has left for  herding trial with Sarek and the kitchen is quiet. Time for me to have breakfast.
8:45 – Wakes up and walks to the door. I take him out to pee.
8:50 – He does not go back to sleep, so we play with a toy in the kitchen. I focus on tugging and that he drives back to me when I let the toy go.
9:00 – Full speed! He is biting my feet and throwing his metal bowl around. I want to have coffee and answer some e-mails. I try something that often works with small puppies. I give him pieces of apple (can be any fruit or vegetable really) to investigate/play with/eat. It works this time too!
9:30 – I did get some work done while Wilco was occupied with his apple and biting my feet. Let's go for a small walk again. Sisko can come too.
9:50 -We're back from outdoors. I brought two toys and tried to do as many recalls as possible. It wasn't easy, as he didn't want to leave me and the toys. He did follow Sisko or sniff the ground a few times, and I could call his name and play with him when he reacted. I also tried the switch game for the first time. As he as tugging on one toy, I would tease him with the other and add the cue "ja!" just before he let go of the first toy to grab the new one. It went very well! He was also rewarded for attention, as I couldn't resist rewarding when he just wanted to stay connected with me when I took the toy away.
10:05 – Playing with his toys and apples while I work on the computer.
10:30 – Has fallen asleep under my chair after playing on his own for a while
10:45 – I get up to clean the kitchen counters. Wilco wakes up and follows me calmly. I try to ignore him and hope that he goes back to sleep on his own.
11:00 – Wilco  walks into the livingroom, so I decide to take him out before there is an accident. We go out in the sleet and it takes a while for him to pee. When we get back in, I find a puddle of pee in the livingroom. When did that happen? I keep moving arount the room calmly while cleaning, and I wait for him to fall asleep. He does lie down often, but if I walk too far he will follow me calmly.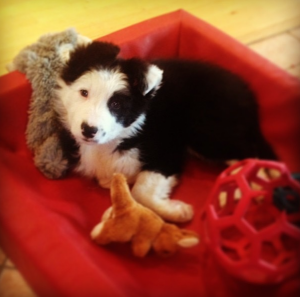 11:15 – He falls asleep in his bed after 15 minutes. He is no longer disturbed by me moving around.
11:30 – I decide to take the grown-ups for a walk while Wilco sleeps. I will attempt to sneak out without waking him… He wakes up, but looks calm. When I get out I check on him through the window. He lies down on the rug.
12:00 – Back from my walk and I look through the window. He is asleep in his bed. This would be a perfect time to go to the grocery store. I'm hungry and out of food. But my wallet is on the table next to the puppy. I have to go in and wake him up. He wakes, but stays in his bed, so I decide to go.
12:20 – I am greeted by a happy puppy when I get back. I immediately take him out and he pees a lot right away. I can't find any pee in the kitchen. Yes!
13:00 – I get distracted by a phone call during lunch, and Wilco pees on the floor again. Soon it's time for his lunch, and my plan is to introduce the clicker to him. I'll tell you more about that in the next post.