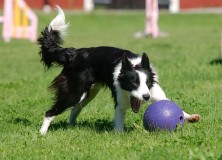 This summer, we are presenting an online obedience class. The class is open for 10 working participants. You can also join as an observer. As a working participant, you will follow the class with your own dog (one dog per working spot) and post video for the entire class to see. Thomas and I will of course comment on your videos and help you through all the lessons. The observers get to read and watch all material from me, watch all the posted videos, ask questions and join in on the discussions.
This is a obedience class, much like the one we do IRL at home. The class will be based on the exercises from the FCI obedience trials, but the online class is also open for those who do obedience in other organizations. It will be great for anyone wanting to get the most out of their obedience dog using reward based methods, from the curious novice to the experienced competitor. It is a great advantage if you have done our online foundation class, or if you have the similar foundations in play, shaping and self control.
The class will run from July 9th. A new lesson with text, video and homework will be posted every other Monday, for a total of 8 lessons. Every lesson has a theme, go to the Obedience Class page to read more about the themes.