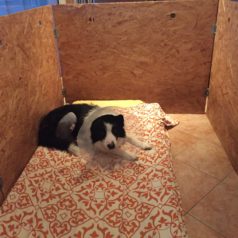 It's been two weeks since Epic's injury and yesterday was the day of his surgery. He's been a good boy taking it easy for two weeks, but his energy was sky high when he finally got to leave the house and go for an adventure. During the initial check with the surgeon, he was surprised to see how well Epic was moving. I showed him in a walk and a trot and he did not show any signs of lameness (which he hasn't at home for about a week either). This made the surgeon question his original diagnosis of a CLL injury, because dogs don't usually recover so nicely from that. I left Epic for an arthroscopy and possible surgery in case it was a CLL injury after all. I took the rest of my dogs to an indoor arena for training while I waited for the vet's office to call me.
I came to pick Epic up six hour later and he was very happy to see me and still very energetic even after anaesthesia and arthroscopy. He didn't have surgery on his knee since the arthroscopy showed a total caudal cruciate ligament rupture, which is not helped by TPLO or TTA. The caudal cruciate ligament is much less common to rupture than the cranial, and it happens with a specific type of trauma (most often when a dog for example is hit by a car). The caudal cruciate ligament has the opposite job to the cranial. With a CCL rupture, the femur (thighbone) slips forward since the ligament is not keeping it in place. The caudal cruciate ligament keeps the thighbone from slipping back or sideways. Epic shows some slipping sideways when provoked when the stifle is flexed but is very stable with his leg straight.
Arthroscopy also showed that all other structures in his knee looks great and that inflammation is minimal. Our orthopaedic surgeon did not recommend any surgery on this type of injury as he thinks it might create more problems than it solves. It's a very uncommon injury to only rupture the CaCL and not have any other injuries in the knee. In the cases that he had seen before, dogs had come back to work with rest and rehab and no surgery. This is our plan for now – six weeks of rest and then gradually building muscle and proprioception. I'd love to hear from others that has suffered the same injury with active dogs.
Epic in his new apartment when he got home yesterday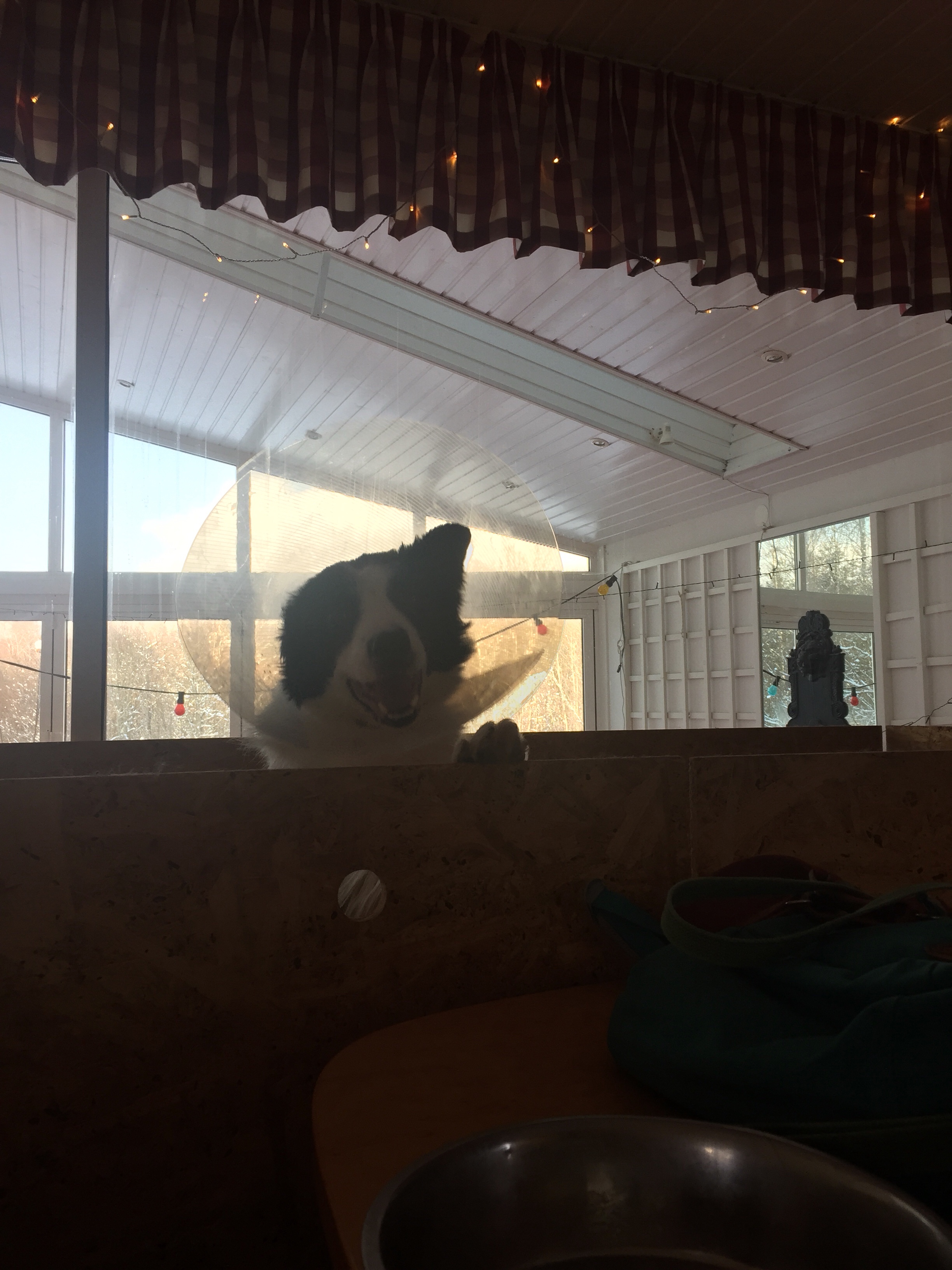 Epic this morning, ready to party. He also jumped out of his enclosure and onto the kitchen table once…