In yesterday's blog, you have the chance to win an e-book about how to pick a puppy with good structure for dog sports. It got me thinking about how we pick puppies from a litter. Like I mentioned yesterday, I've chosen all my puppies based on their looks. I just can't help picking the puppy that looks in a certain way, and I just feel that the looks goes with the name I've picked for the puppy. I have tried to do it in another way, just listen to this:
I've planned to test the puppies and pick one based on the test. This is what I did when I picked Squid and I also asked Helen about what to look for structure-wise. There were three female pups and I got first pick. I wanted to see the puppies tug and they all did that well. Then I had one other test that I really believed in. It's the reversed luring (or "it's yer choice") game. I presented a closed fist with treats inside it to one puppy at a time and looked at how they behaved. The first two puppies were excellent, behaving just like I wanted. They would try many different ways to get the treats and they did not give up. I'm not looking for a puppy that stays away from the hand too soon, I want them to be really intense and persistent. I think that this game shows that the puppy is willing to work for rewards and that he has some concentration and endurance. The third puppy was not like that. She sniffed the hand and walked away. That puppy was also the only one in that litter that was a Squid… So I ended up with her even though she failed at the only puppy test I really believe in. I still believe in it, because it was right about Squid. For the first 1,5-2 years she was really hard to train. She would fall asleep during shaping and give up if you used a non-reward marker. It was really, really hard to get her to do anything for any length of time. I'm still very happy that she is mine and at this time, you wouldn't guess that she ever had those problems. She is a lot of fun to train, is very creative and persistent in shaping and can do obedience for long periods of time without rewards. She was just a very slow starter (and her sisters were not).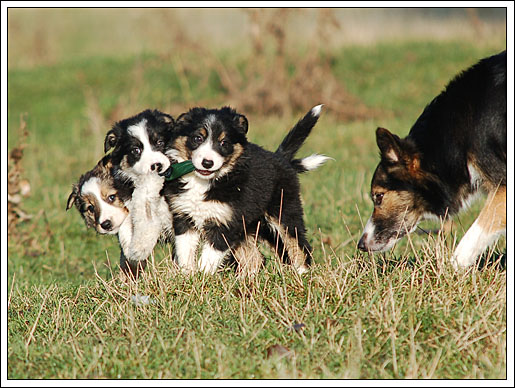 Very young Squid (to the left) with a brother, a sister and her mother Fly.
My next puppy was Epic and he is from our first own litter. I thought that having the puppies around you all the time for eight weeks would give you a lot of information and that I'd be able to make a good decision based on their personalities and structure. There were two male dogs in the litter and I picked Epic within two or three days, before he even had a personality… My choice was mostly based on the fact that he was black and white and his brother had some tan spots. Since I had Squid that is so much like mother Fly, I wanted to pick a puppy that was more like the father this time. Epic's father is black and white and I think that was part of why I picked him. I believe that puppies that look a lot like a relative more often will have the same personality. I know this sounds weird and I'm not sure if it's true (but it often seems so). Anyone that has any thoughts on this? I couldn't be more happy with my choice, I love Epic so much.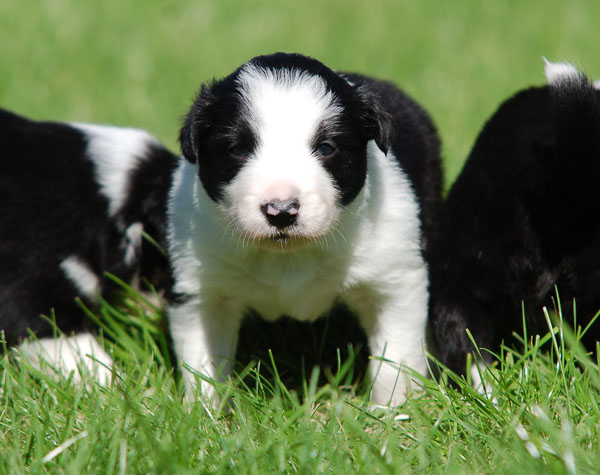 Epic with a bulldog body at 3 weeks
This summer, Thomas lovely dog Jen had a litter of puppies and I was going to keep a female for herding and breeding. Since Jen is carrier of CEA, we decided to test all the puppies as soon as possible, so that we could chose a female puppy that was clear/normal and not have to worry about it in future breeding. But when the test came back, it turned out that both the black and white puppies were clear and the ones with tan were carriers. I knew I should keep a black and white female, but in the end I just had to pick one of the tan marked because she was clearly "Seven" (the litter has a Star Trek-theme).
Then Thomas fell in love with one of the male puppies and kept him (also a carrier…) and I didn't feel like having a puppy at all. So Sarek has stayed with Thomas and Seven moved to Stockholm on breeding terms and is now called "Twix". It didn't turn out at all like I had planned and I have no idea how it will end (which of the female puppies I'd most like to breed from when they are grown) but I do have a good feeling about my choice anyway. I met Seven/Twix a few weeks ago and I just loved her personality so much. She's also still very pretty, but I don't know what Helen would say about this body at five months 😀
Photo borrowed from Emelie Briding. I think this is a really unflattering picture and I'm sure she'll look great when she's grown. This is just too funny.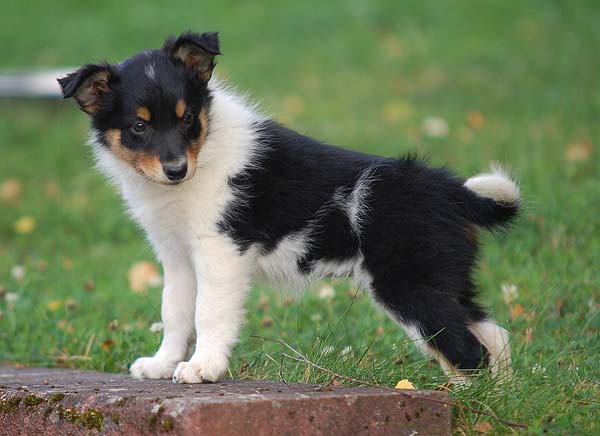 Seven/Twix at 7 weeks