We all have limited time and energy for training our dogs. Life gets in the way of training all the time. Make sure that the time you spend training your dogs is spent in the best way possible. Very small adjustments to what you're already doing can make a huge difference in how successful your sessions are. Take your training seriously and consider these simple points that will improve your training if you're not already doing it.  Yes – you have to spend a little more time and energy before you can start training, but you'll get much better results and a more focused dog.
Prepare the area before you start your session. Set the stage for training by making sure that the environment you're training in doesn't have unnecessary distractions. Make sure that your rewards and props are in place.

CUT UP YOUR TREATS! It's worth it, i promise. You don't have time to pluck that hot dog apart with your fingers while you're training. If you do, you're not rewarding often enough. Pick treats that are easy to administer and that your dog likes. If you're using a toy – make sure to pick one that works well with what you're teaching. Rewards are not only about the dog liking them, but also about being able to place them where you want and to be able to move on to the next repetition quickly once the reward is done.

Make sure your dog is pottied and warmed up. Are you at your best when you really need to pee? Or when you're just woken up from a nap? Probably not, and it applies to your dog as well. Make sure he's well pottied and awake before attempting to train.

Know what your goal is and train one thing at a time. Training is always less efficient if you don't have a goal and a plan. Your goal should be specific to that session and easily measured. Make sure to articulate it if you're training with a friend or instructor. If you're training by yourself it might be a good idea to write it down.

Always check to make sure your dog is engaged before starting your session, and before moving on to a new repetition. Is your dog excited by the reward? Does he focus on working as soon as the reward is finished? If not – you have to address that first. All other training has to stop while you figure out why the dog isn't engaged. Is he scared? In pain or discomfort? Is something too distracting? Is the reward not reinforcing enough? Are you putting pressure on the dog without realising it? Fix the problem or change the environment before doing any other training.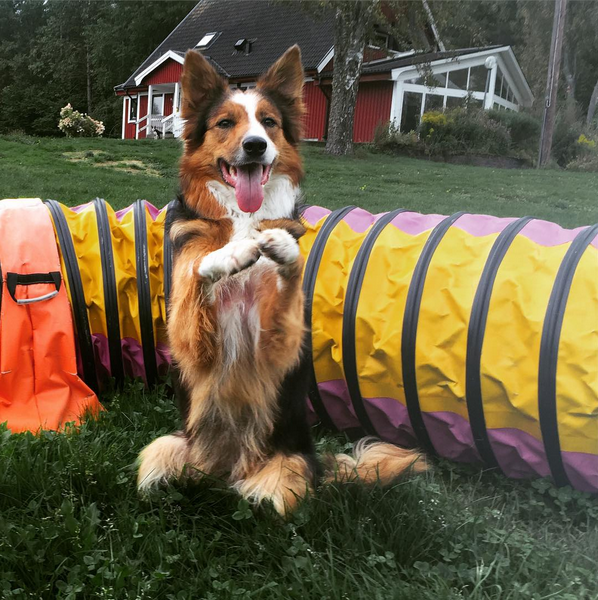 These guidelines apply both to short sessions in your house and to when you're in a class or seminar. People seem to be just as sloppy with their preparations when they pay money for training, which is partly why I'm writing this blog post. Make sure you get the most out of your time with an instructor. It's so unnecessary to spend that time with a dog that gets distracted because of your poor preparation. 
I hope this doesn't sound harsh. I just want people and dogs to have more fuvn and less frustration in training.
If you're interested in more training tips, or need help with engagement, rewards and planing, check out our online classes that start on February 5th.
Relationship Buildning suits dog owners who wants to develop a great relationship with their dog. You can join with a puppy, a young or adult dog of any breed. A great relationship is the foundation that makes both everyday life and (training for) trials fun and easy. Dog training and ownership is so much more than just training behaviors. Training behaviors is part of it and is quite easy in an environment without distractions. A great relationship makes it so much easier to have success even in more challenging situations. Thomas will guide you in this class and use his experience in reward based training for field trials. 
Foundation Class is great for anyone that wants to become a better dog trainer. Learn how to develop great rewards, shaping skills, foundation behaviors, self control for your dog, and much more. This class is great for dogs at any level.