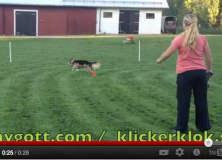 Squid and I do train some obedience. We're working on small details and I try to do some obedience before we go to agility. We're also playing around with obedience while waiting for our turn at agility trials. Sit, down and stand from heel, heeling and distant control are things that you can see us play with while we're waiting to go in the ring. She is really good at it, even when she is very aroused at an agility trial.
Most of the time, I'm very happy with the precision in her work, and I hope that we'll be ready to start class III some time. Since we're putting a lot of energy into agility, there is no rush. I think it's nice to just enjoy working on the details without having the pressure of getting done quickly. It's nice, and I really like what we do, but it takes time when you don't train that much.
I tried to teach Squid the directions for the directed retrieve for the first time earlier this week. She's never done anything like that before, but she knows how to run around posts. She got the idea very quickly and in the next session, I will probably be able to add a third post in the middle (as a distraction, the dog never goes to the middle dumbbell in FCI obedience). If that works well, I'll move the posts out to full distance. It's a lot of fun to teach new exercises when good foundation makes it so easy!