It's really a depressing time of year. I did wish for the snow to go away, and I guess I got what I wished for. It's windy, dark, rainy and the road to our house is covered in ice with water on top. I have had to park the car by the postbox since it's impossible to drive up to the house right now. I have caught a cold and is coughing constantly. Thomas is in Bergen again, working on his master thesis. Indoor training yesterday was cancelled, I guess because many of my friends have exams today. Indoor training tonight might be hard to get to, because of the icy road to the riding facility (a friend of mine got stuck on that road on Tuesday and it took us a good halv hour to get out of there). Maybe I can start training on my field again now that the snow is gone, but I have a feeling that it's too wet and slippery.
Ok, enough of the whining. We're soon heading for spring! Puppy Squid is now 13 weeks old and huge! She weighed 8,4 kg yesterday. She is very coordinated and has full control over her body, so it doesn't concern me. I don't think she'll be a big border collie, she's just a big puppy and has always been (like the rest of her litter), but her parents are normal size border collies. She is so far all that I wanted from a puppy. I wanted a social puppy with lots of confidence and no fears. She is all that. She loves people, especially children. She is not afraid of anything and can relax anywhere. I also wanted a puppy with a lot of brain. I want a dog with an open mind who can be thoughtful in drive and never loose her head. Her parents had the qualities I was looking for and I think she got them too.
It's extremely easy to change her behavior. If she shows a behavior that I don't like, it's usually enough with a few reinforcements for good behavior and then she never looks back. She started to show interest in other dogs running agility or tugging at an early age. She would kick and scream when she saw even the slowest dog run around an agility course. I started rewarding calm behavior right away and it took me just a few repetitions to have a completely different puppy. She can stay in an open crate and be totally relaxed as other dogs run and play.
She loves food and she loves to tug and her openness to change makes it really easy to train her, she will just accept any reward from me without thinking twice about it. She loves to climb things, I had to rescue her from the seesaw already on the first day. I have some balance toys that she just loves to climb on her own and she will climb the peanut ball and use it as a resting place 😀 We had a jumping seminar here this weekend and she got to do her first puppy grid, wich she did nicely.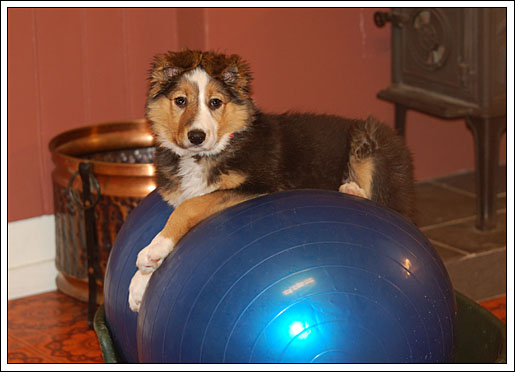 Time to go out for a walk with the dogs. I was waiting for daylight to come, but I don't think it will get much brighter than this on a rainy and windy day like this.