13:20 – I was going to feed him lunch, but he fell asleep. I don't want to wake him up, so I'll have a cup of coffee and wait for him to wake up.
13:45 -He woke up when I needed to get up. After a potty break outdoors, we went into a room with his bowl of food. He was still a bit tired, but hungry for food. I held the clicker behind my back to begin; you don't want to scare the puppy with the sharp noise of the clicker. I took a big chunk of food in my other hand and held it behind my back too. I stood completely still. Clicked. Brought out the hand with food and let him have a little taste. Then I took both hands behind my back again and repeated after a few seconds. After a few times, I started to look for behaviors to click. As he was standing so nicely, I decided to click standing still and when he moved a back foot to correct the standing to a better position.
14:00 – A little walk with Win, Pogue and Kat. Wilco really tries to get the grown-up dogs to like him, but they are not giving him any response to his polite attempts to make contact. I feel a bit sorry for him.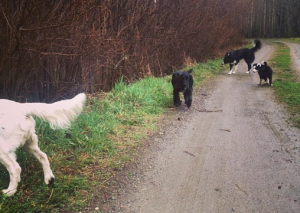 14:30 – He's fallen asleep again. I thought that he would be full of energy now, but he likes to sleep in the afternoon.
15:00 – He woke up when I moved, but just chewed on his toy. I'll take him out when he gets up.
15:15 – Pottied outdoors, and fallen asleep again. I'm trying to make treats for him in the oven. Ground lamb, eggs and psyllium seed husks mixed. We'll see how it turns out!
17:00 – Slept until now. Woke up when a friend came to visit. He is energetic and wants to bite everything while we have coffee.
18:00 – We go for a little walk with my friend and her puppy-friendly dog.
18.30 – Sleeps some more while we do herding with the grown-ups.
19:30 – Out to potty, and we do a little training and socializing. I introduce a release cue ("fri") when he offers sit, and I get a few successful recalls when he is greeting another dog.
19:40 – Plays on his own indoors.
19:50 – I take him out to potty. He falls asleep when we get in.
20:00 – Sarek barks in the other room and Wilco wakes up and looks a bit worried. I let him have a few pieces of kibble on the floor, and he eats them before he falls asleep again.
20:15 – Thomas lets his dogs into the house after a walk and Wilco wakes up. I take him out to potty again and when we get in, he lies down in his bed.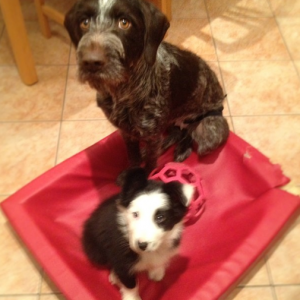 20:35 – Two accidents in the house in five minutes. Fail!
20:40 – A short walk along with Epic and Squid
20:50 – We work on going in his bed, staying there and leaving it on "fri" while Thomas is using the vacuum cleaner in the same room. Good puppy!
21:15 – Dinner, and a raw stalk of broccoli to play with/investigate for dessert. And then out to potty of course.
21:30 – Playing with his broccoli
21:40 – Accident in the house again.
21:50 – Out to potty with Thomas.
22:15 – Another potty break
22:20 – Fallen asleep under my chair
23:05 – Still asleep and I'm about to go to bed. Good night!