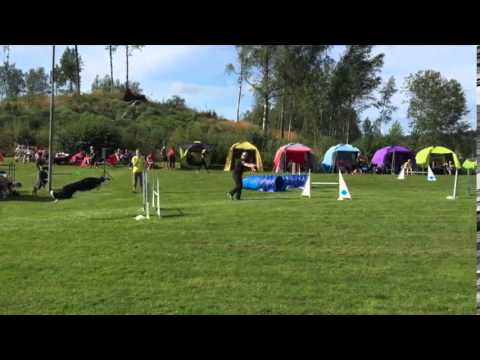 Wilco turned 18 months a week ago, and he is starting to become an agility dog. I have been moving very slowly with him, since he's been very immature in both body and mind. I waited and waited for him to feel mature enough to do contacts and weaves, but then at 16 months I decided to just try it anyway. I was not planning to do any trials with him until next year, but then things went well and I felt like it might be fun and good for him to get out and do some trials. It was a little crazy, but I entered him in 8 class 1 runs on the weekend just after his 18 month birthday.
He does not know everything he needs to know to be successful and consistent in competition. He just learned how to weave, and needs a lot more confidence, understanding and experience on that. His seesaw wasn't finished, and he hadn't seen a flat tunnel more than twice in his life. I was not planning on winning any ribbons – just having fun and giving my young dog the best possible experience in a trial situation. And WOW – we did have a lot of fun! I can't remember when I had so much fun at a trial before.
Wilco really tried his best. He seemed to learn things from every run and improved a lot. He was happy and I was happy. He is such an easy dog to manage outside the ring. Friendly with everybody, calm and not at all interested in other dogs running agility. He just wanted to have fun with me. He ran past the dogwalk on the first attempt on both days, but was happy to take it on the second run of the day. He hit all his down contacts on both dogwalk and a-frame. He did have trouble with weaves on the first day, but on the fourth run he got it right on the first try. On the second day, he surprised me by not making a single mistake in weaves. He even ran one standard agility run with only one mistake – a dropped bar between seesaw and weaves.
Bud came along and got to train and socialise around the agility ring. He was also very, very relaxed and well behaved. I love my boys!
Here's a video with some clips from Wilco's first weekend of competing:
All three dogs (Squid, Epic and Wilco) will be competing this weekend. Two runs each both days. It will be intense, but fun!