Wow, I've been really bad at updating the english blog lately. It's been a hectic month with lots of teaching. I was in Sweden for a week teaching agility, shaping and obedience. I was unfortunatly really ill all week and couldn't be at my best. This week and the past weekend has been dedicated to our groups of trainers that work with us for 4-6 weekends in a year. Six days of teaching out of nine. These groups are usually the most fun to teach, as they are very ambitious and you get to see them make a lot of progress. We're done with two groups (one at home and one in Bergen) and a third group are coming here tomorrow. I got ill again yesterday when teaching and am sitting by the computer, drinking tea, to get well before tomorrow.
We've had time for some dog training as well. Shejpa has been taking time off from agility since we detected some pain in her back. She should be back soon and we have a few trials planned for late April and early May. We're going back to the physiotherapist next week and hope that she's not in pain any more. It's not a big thing, you can't tell that she's in pain unless you press on a specific spot. Shejpa turned three on Sunday!
Missy was supposed to do an obedience trial in early April, but she came into heat (along with Pi and Shejpa) last week. You are not allowed to trial i bitch in heat at national trials in Sweden, so we have to wait until May. She's doing well in training. A lot of things are working great. Most of the work we do is on longer sequences in a trial like setting and getting her in a calm mode for heeling.
Squid is now 6,5 months old. She is still a very nice and social puppy. She's never been really crazy in training (except for restrained recalls and circle work) and I have been fine with that since I have one over-the-top-border collie and I know that they usually get more crazy with age. But I have found that I have a problem with getting her to drive away from me with speed to a crate or target. She runs well to a toy or bowl of food, but the transfer of value hasn't happened with the target and crate. I have increased the intensity in her tugging, worked with really high value rewards, short distances and short sessions to build a lot of value for targeting and driving into the crate. Still, we're not having any real success with it. It might come when she gets older, but I'm not ready to just cross my fingers. There has to be something more that can be done.
We're working a lot on focus at the time. At six months, a lot of puppies get more easily distracted and that's true for Squid as well. We work a lot on tugging and then just snatching the you away from her and walk away. When she comes back to heel position and walks with focus for a while, the game is back on. Works well and she is getting better and better. We've also been working on a few new tricks and she has been travelling with me and is really good at relaxing in her open crate.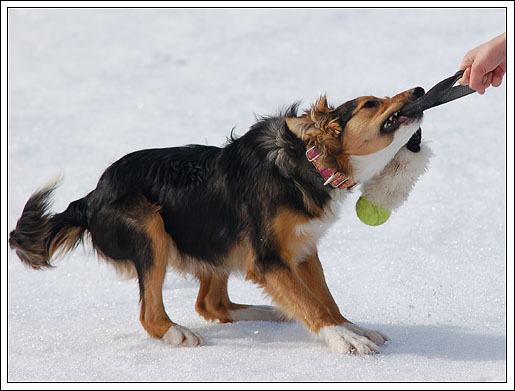 We've started some more training for search and rescue (wich is a sport in Norway and Sweden). At first, we worked a few sessions on just driving to new people and tugging with them. She loves it and we've done one session in the woods where we worked some on using the wind to find people and some on running straight out in the woods to get to the person. She really likes to use her nose and I have also noticed that she likes tracking. I'm not planning on doing any tracking with her, but a girl working for us right now tried some tracking with her today and she was really good at it.
Oh, and by the way. Thomas decided that he needed a cocker of his own, so he picked up Pogue, a male working cocker. Pogue is 5 months old and a really sweet dog!