Squid has started to be more offensive in shaping, wich I love. She started offering so many cool things when she got frustrated, that I decided to just have sessions where I capture and shape her puppy goofiness. I know it might make other things harder for me, because I have clicked for different things in one session (without me being in charge of switching behaviors), something I very rarely do. I want my dogs to keep working on the same thing until I decide to do something new. But on the other hand, I got some really cool behaviors and Squid is working much more activly. She likes to lie down, something that I have never reinforced before, but now decided to accept as she is offering so many cool things. She has offered and repeated:
Hind paw on face
Crossing front legs
Rolling over
Putting front paw over nose
Streching front legs
We have also been working on getting up with front paws on a small perch and holding a toy in her mouth when I tempt her with treats. She has been on a few walks with the older dogs out on the fields (no herding the older dogs yet, so she can join us for now) and we have been working on circle work on the agility field.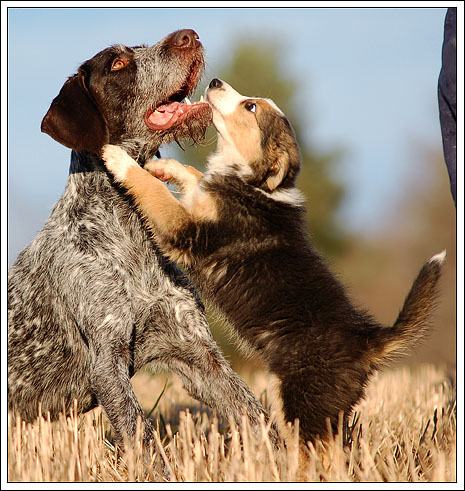 Squid with our german pointer Pax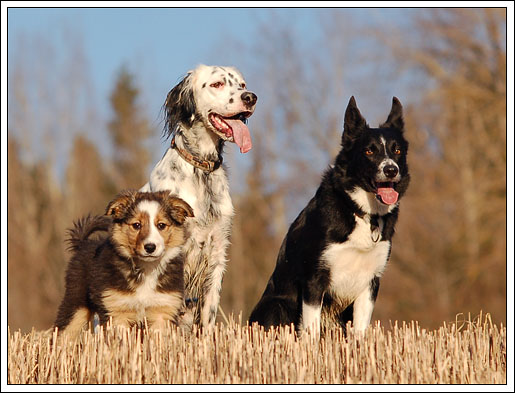 Squid with Pi and Missy (can you believe they are both border collies?)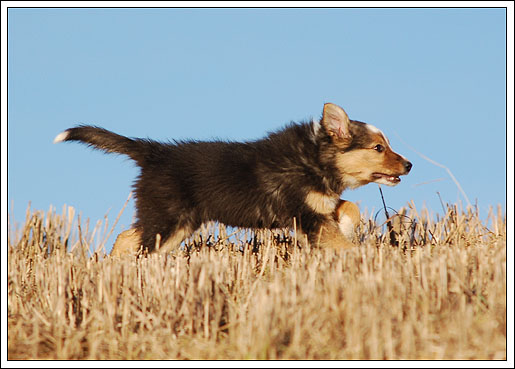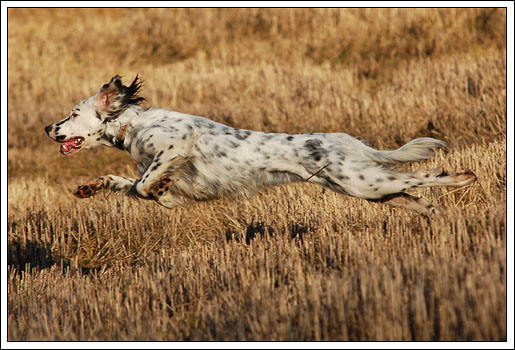 Pi, flying over the fields
On Monday, we brought her to some friends and family with small children. She med Kaja, 5 month old human puppy, and Benjamin, Thomas' 8 months old nephew. She was really sweet with the babies and was really happy to see them. We also got to walk in the city at night.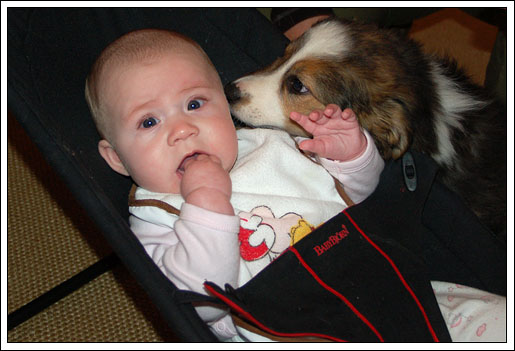 Squid and Kaja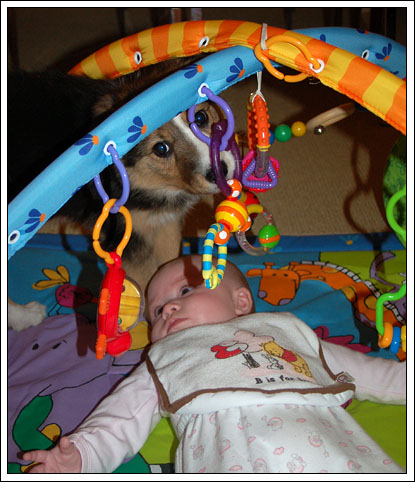 Squid wants to share toys with Kaja
We're getting ready for an agility trial tomorrow. Shejpa hasn't been in a trial since her debut in September and I really, really hope we'll do well tomorrow. It's indoors on carpet and that should suite her fine.