My name is Fanny Gott. I am a professional dog trainer with a passion for clicker training and dog sports. I live with my husband Thomas and our dogs in Fjugesta, outside Örebro in Sweden.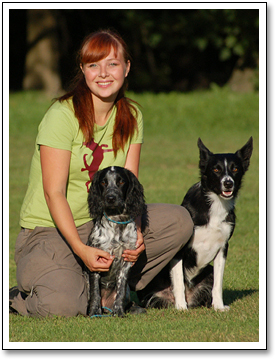 I started training and trialing with dogs well over 10 years ago. My first dog was a male cairn terrier, born in July 1991. He was trained in obedience, agility, flyball and tracking. We attended some trials, but were not very successfull. My first border collie came in to my house 1997. Her name was Twiggy and she sadly passed away this summer, 13 years old . We competed quite successfully in obedience: She was OTCH and qualified for a few national championships. We did also compete in agility, freestyle and tracking. Twiggy was initially trained with positive methods that included a lot of luring, but started clicker training as an adult.
Missy was born in 2004 and is closely related to my older border collie, but they are nothing like each other. Missy has had some issues with gunshot and other sharp noises, reactiveness to people and other dogs and other issues with insecurity. She did get much better and did well in trials with me. She competed at the highest level in FCI obedience and qualified for the Norwegian Championships final in 2008 and has got an OTCH. She has also won the only tracking trial she has entered, shown off her freestyle skills on national television and done a few trials in agility, where she has earned one leg in jumpers. Missy is unfortunately not still with us.
Shejpa is a field bred english cocker spaniel born in 2006. She is trained for field work and agility. Shejpa and I have worked a lot with Susan Garrett. Shejpa got her Agility Trial Championship (in both standard and jumpers) and qualified for Swedish Nationals in 2010 and 2011. She also won AgIF's National Championship 2010 and won the Swedish Agility Team Championship 2011. I have also trained my husbands english setter, Pi, in obedience. She did one trial at 11 months, where she qualified for the next level.
Squid is a border collie born in 2008. She is outgoing, fast and fun. Squid does herding, agility and obedience. She has done well in herding trials and has done the first two obedience levels with nice results. Right now, we're mostly doing agility in class 3. Squid had a litter of puppies with Epics father Hemp in 2011 and I'm very excited to see what these fantastic puppies will grow up to become. They are all with very good friends of mine who are excellent dog trainers.
My youngest dog is a border collie named Epic, born in August of 2010. Epic is from our first litter (same mother as Squid) and he is really everything I wanted and more. He is the most fantastic dog I have ever owned and I look forward to competing in herding and agility with him. He has passed the swedish herding test and has good results from novice trials in herding. He is also competing in agility and jumping class 2.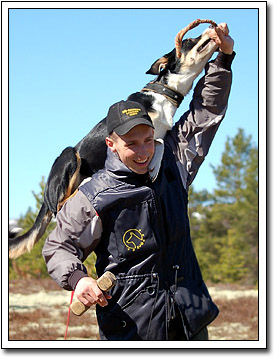 Thomas works as a dog trainer with me and is also working on his masters degree in ethology (the study of animal behavior) this year. Thomas has worked with dalmatians, a rottweiler, a german pointer and an english setter before, but he currently trains border collies and working cocker spaniels. Thomas does obedience, search and rescue, herding, field trials and some agility.
Both of us started out as clicker trainers with Morten and Cecilie of Canis. Since then, we have evolved our own style of training, heavily influenced by both Canis and Susan Garrett of Say Yes Dog Training in Canada. We run our own dog training school where we specialize in clicker training for dog sports. We offer classes in obedience and agility at home and are often invited to clubs and schools around Sweden and Norway to teach clicker training.
You can contact me at fanny@klickerklok.se