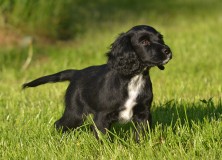 What and how much physical activity should you do with your puppy? This is a common source of discussion and disagreement in the dog training world. I don't know a definite answer, but I do have thoughts and opinions. As I'm preparing for a puppy agility seminar tomorrow, I thought I'd write down some of my experiences with puppy training. In general, I think that I wait longer with some things than others, but I'm definitely not afraid to let my puppies use their bodies a lot. I don't think that there is much evidence to back up any standpoint on this issue. If you know of relevant studies or other evidence – please let me know. One study that I do know about is a Norwegian study looking at the incidence of hip dysplasia in four large breeds. This study indicates that puppies under three months benefit from outdoor exercise on soft ground in moderately rough terrain. The study also indicates that young puppies might develop more hip dysplasia if allowed to walk on stairs. Since one is always more inclined to believe evidence that supports your previous beliefs, I'm not sure if the stair thing is real or if stair walking is something that simply correlates with living in a city and not being allowed exercise in moderately rough terrain… Anyway – these are the things that I consider when raising a puppy:
Surface. From the moment puppies are born, I think it's important that they are raised on a good surface. I think it's really sad to see puppies raised on slippery floors, and I really do think it affects their development. A good surface provides good traction so that the puppy can move about, play and run without slipping. It's really difficult to find a perfect indoors surface for young puppies – especially if you also want to be able to keep it clean. We try our best with indoors footing for the puppies that we breed, but I still think it's best if they run and play outdoors on grass as much as possible when growing up. Spring and summer puppies have an obvious advantage here, being able to spend more time outdoors. Fortunately, I've rarely had trouble with border collie litters in the winter. They're definitely okay with playing outdoors in the snow as long as they have a warm place to sleep in when they get tired.If you have slippery floors in your house, I'd definitely suggest that you put some good carpets in before you get a puppy. Place carpets where the puppy moves the most and especially where he's likely to be in a hurry. And most importantly – make sure that you have a good surface for training. Having reviewed a lot of training videos in our online classes, it's unfortunately very common for people to train on slippery floors. Please, make sure that you're always on good footing when playing or training with your dog. I don't think it's fair to play or train anything that requires fast movements if the floor is slippery and the dog has to struggle to keep his balance.
Free exercise in moderately rough terrain. The best way for a puppy to find strength, balance, and proprioception is by free movement in terrain. When puppies are really small, they have a lot of fun just exploring our garden. I let the puppies we breed spend as much time outdoors as possible from 3-4 weeks of age. With an older puppy, I take them to the forest for exploring and moving about. At 2-4 months of age I usually just stay in roughly the same area and let the puppy just explore, do some recalls and slow walking by my side for short periods of time. When they're older I let them join the grown-up dogs for walks, but keep an eye on them to make sure they don't get too tired. I also want to avoid too much running with older dogs, herding other dogs and especially getting tackled by larger dogs. Fortunately, my older dogs are good at keeping a relaxed attitude on our forest walks, so the puppy quickly learns that drill. Here's a really nice video showing some exercises and play done with a puppy in our woods. I think Wilco was about 4 months old when we made this.
Learning balanced positions. Puppies often lack the muscle that allows for a proper sit, stand or down. They often sit and lie down on one hip because it's tiring to sit or lie straight for more than a few seconds at a time. In a stand, the puppy will often move feet often and might stick them out to the side as "training wheels" to keep their balance. In addition to slow walking in moderately rough terrain, I think working positions with the puppy is the most efficient way to give them the core strength needed for future exercise. I help the puppy into a good stand, sit or down and just feed them there for a few seconds before releasing. I gradually add duration to the position as well as shaping for the puppy to find the correct position on his own. I don't see any point in putting the puppy on unstable surfaces like balance discs before he can show me a nice, balanced, and strong position on even ground. When the puppy has developed muscles and technique to hold positions nicely, I'll introduce some light pressure from my hands pushing to the side at his hips or shoulders so that he needs to push back a little bit to keep the position. I'll also introduce shifting from one position to another, for example sit to stand so sit with his front feet still.
Shaping some tricks for body awareness. I also like to teach the puppy some tricks for body awareness. I don't think this is as important as the three points mentioned above, but it definitely helps the puppy be more aware of his body and how he can use it to get rewarded when we start some more agility related exercises like contacts and jumping. It also gets him using muscles that might not be used much when he's moving freely. I prioritize quality over quantity here. I'd rather have four really nice steps backing up with good hind leg movements and a straight back than have a puppy throw himself backward for many meters. Things that I teach include:

Backing up.
Lifting hind legs to a target (backing up onto something).
Rear end awareness with front feet on a platform and hind feet circling around the front.
Walking around an object with a bent spine and deliberate paw placements. Not fast, slow and controlled.
Stretching out hind legs from a down.
Lifting front feet from a sit and a stand.
Crawling with hind feet under the body alternating left and right feet going forward.
Stepping into and out of a box or over cavalettis. Slow and deliberate once again.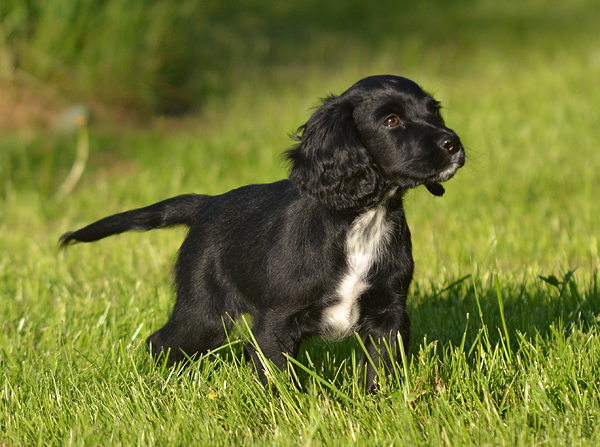 I am not afraid to let my puppies use their bodies, join on walks and build muscle. I think it's probably worse to do too little with a puppy that is going to be an active adult than to do too much. I just try to do more of what I think builds the right muscle and strength for the future, and I don't like to see any dog work in bad form or do things that they're not strong enough to handle.
What are your thoughts on puppy training?