Thomas has been away teaching in Norway for a week now and I've been home alone with my dogs. I haven't had much teaching to do this week, just one evening class, so we've been training a lot. We're fortunate enough to have two indoor dog training arenas within about an hours drive. They are warm and have turf footing, which is a life saver when it's cold and icy outdoors. We also have a riding arena where I have my agility equipment just 5 minutes from our place, but it's not quite the same. I've been training a lot of obedience the past month and both Squid and Epic are doing well. Squid will do her first obedience trial in march and I feel very well prepared for that. We're working on a lot of sequences with 3-6 exercises in a row with only one reward at the end. I've also started to add more and more distractions to the sequences, trying to find new things that could distract us at a trial. I will keep doing that, but now that everything works well as a whole, I'm also planning to take care of some minor details that will make our performance even better. My goal for the trial is to be so well prepared that there will be no surprises.
Squid, tired from four hours of training in one of the indoor arenas
Epic is mostly working on heeling, the stand (which i promise I will talk about in the blog soon), sitting still with distractions (people coming up to him is one of the hardest, he is such a happy dog, just like his sister) and always retrieving his toys to me in full speed. We're also working on some tricks and agility foundation behaviors, like circle work, nose touches and puppy jump grids. He is so much fun to work with – always keen and focused, but also very good at relaxing in his crate when I work with one of the other dogs or watch others work. He will be 6 months old this week.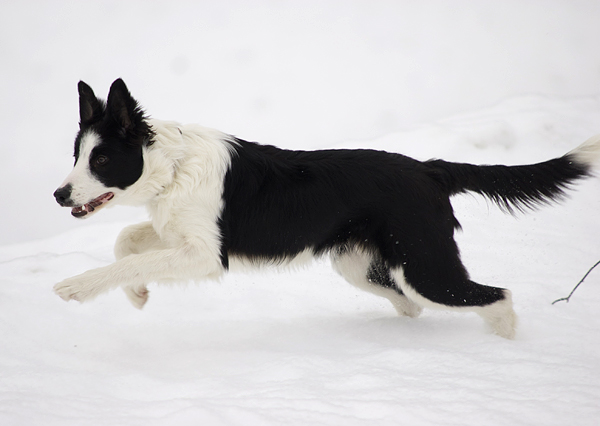 Epic, running in the snow at home
Shejpa doesn't do obedience, but I'm working on some stimulus control and standing still waiting for a cue with her, something she's not very good at. We're also training agility, like today when we went to a riding arena where our dog club has training every Sunday. This year, my goal with Shejpa is to get a more consistent performance in trials. She really has ups and downs and I've never really figured out what makes the difference. I'm starting to think that the correct warm up is very important for her and I'm trying out different warm ups and record keep so that I can get optimum arousal and focus in every run. So far I feel I'm on the right track and I'm very excited to do more trials so that I can tell if I am or not.
Crazy cocker spaniel <3
Right now, I'm preparing for two days of obedience with our favorite instructor Maria Hagström. I'm really looking forward to it and I'm sure I'll have something to tell you about it later this week.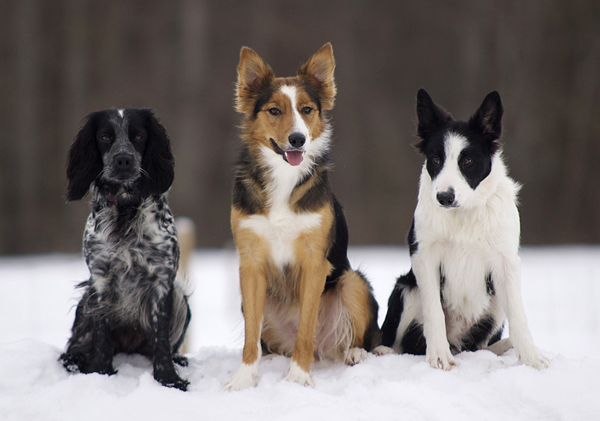 My pretty dogs