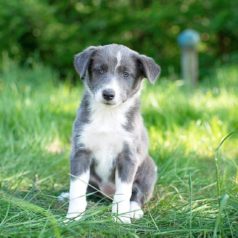 Today, I did my first ever Facebook live – showing our puppies and how they spend their time with us before leaving for their new homes. We have two litters right now, both are seven weeks old. The oldest litter are out of Bud's sister Ale and by English Tweeddale Jamie. Thomas drove to England in February to make this litter happen. The younger ones are out of Bud's mother Fay and by our Volt – Thomas' main sheepdog. Having puppies in April and May is really nice, as they can spend their days outdoors. Less cleaning and much more fun and healthier for the pups. Even in winter, I try to let the puppies out as much as they like.
For The Win Slip. Yes, she's blue. We very surprised to get fancy colors in this litter. All four girls are blue, two of them with tan.
They have a pen in the garden and a place to sleep indoors where they are free to go in and out as they like at any time. When we're around we let them out of the pen so that they can play and explore in the garden. Their mothers spend a lot of time with them but are also free to jump out of the pen and have some alone time whenever they want. The mothers also get some time away from the puppies when they join us for walks, swimming in the stream or sheepherding. Since the puppies are just four days apart, the mothers have raised them all together since they left the whelping box. They work in shifts feeding, playing and taking care of all the puppies.
I'm really pleased with both litters so far. They are outgoing, happy and playful. The first pups will move out on Thursday when Ale's litter turns eight weeks old. Some are staying a few weeks more because it works out better for their new owners. And then there are three pups that we haven't sold because we like them too much…
Here's the Facebook Live video. I hope you enjoy the tour.
Puppies live! Let's see how they spend their days.

Publicerat av Fanny Gott den 29 maj 2018