On Sunday, I was enjoying a sheepdog clinic at our farm and talking to a friend about all the things that can happen to a dog, and about injuries that had happened recently to dogs we know. I was thinking to myself that I had been so lucky to never have had an acute injury on any of my dogs. At lunch, I brought Epic out to switch the sheep out, and I sent him to fetch sheep in an area that is quite full of small trees and roots. We also have a bit of snow and the area is probably a bit slippery. He fetched them nicely and I let five of them out. As I tried to recall Epic the rest of the sheep bolted out away from the gate and he decided not to listen to my recall, but to catch up with them and bring them to me again. As he was coming around the sheep he suddenly changed to a much slower pace and I could hear him whimper. I quickly got him and he was on three legs, in obvious pain. I don't know exactly what happened, but I got the impression that he got his leg caught in something that stopped him abruptly. We also found a scratch/burn mark further up on that leg, which probably happened at the same time.
I gave him painkillers and just kept a eye on him for the rest of the day. He seemed to get better during the afternoon and would sometimes use his right back leg and put weight on it, but then he would go back to hopping on three legs. I took him to our local vet the next morning, and she concluded that it was his knee that bothered him and sent us on to an orthopaedic vet. We were lucky enough that he could fit us in and have a look at Epic already today. Thomas brought him there (it's an 80 minute drive) because I had to work. He was diagnosed with a CCL – Cranial Cruciate Ligament – tear, and will need surgery. Fortunately, there is no indication of any degenerative damage on the ligaments. The left knee was stable and there was no arthritis in the right knee. We were probably just unlucky. Very sad considering the great year we had last year, and how much I was looking forward to tryouts and competitions with him this spring.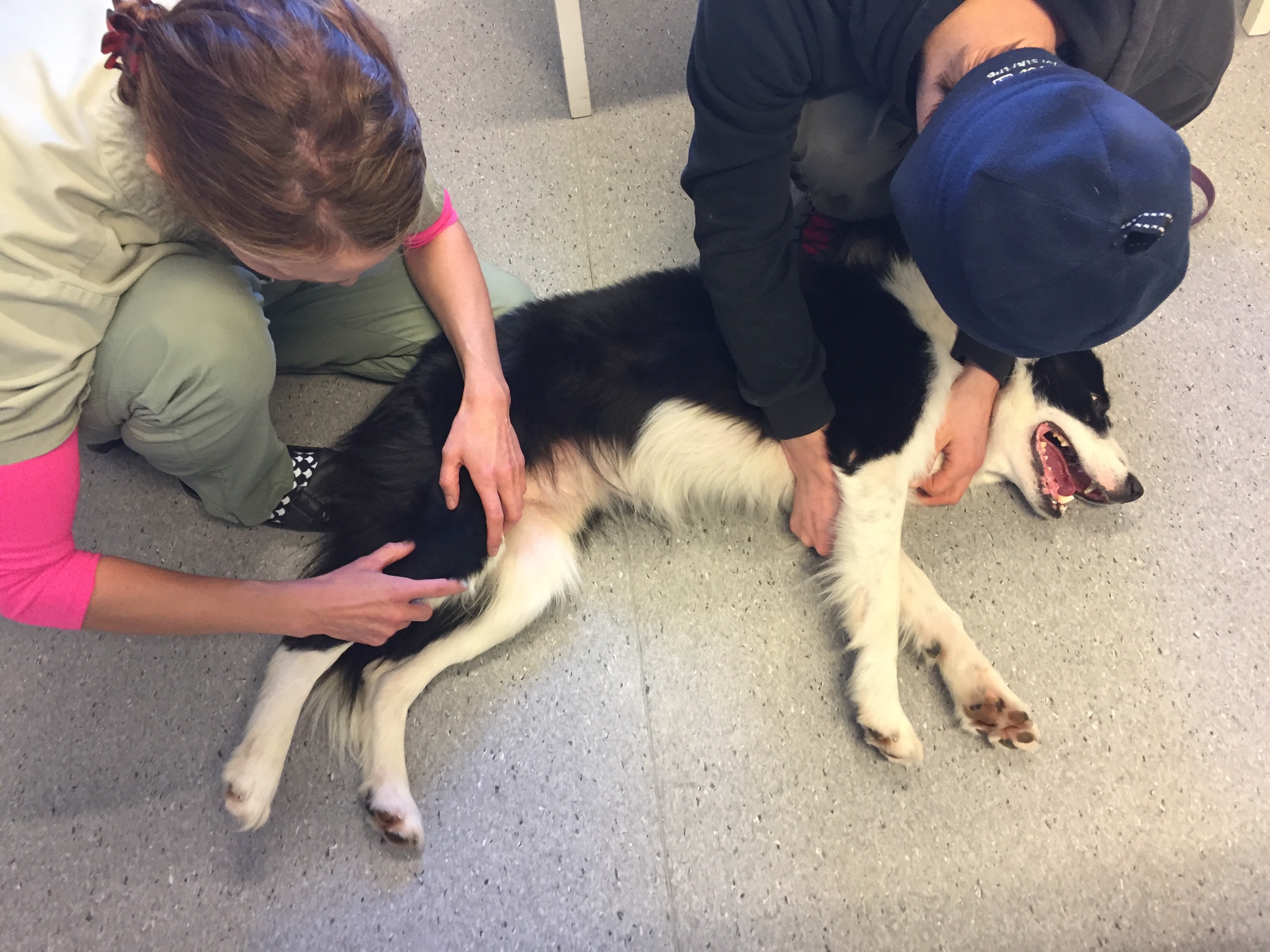 He is scheduled to have surgery on February 19. The surgeon hasn't decided on TTA or TPLO as the method. I was under the impression that TPLO was "better", but I realise that my google skills are not as good as his surgical skills, and that I should let him decide what is best for Epic. The worst thing about injured dogs is that it's so hard to know what is the best for your dog. Unless you have a surgeon and a rehab specialist that you trust fully, you'll have doubts. Have we found the best surgeon? What is best practice in the two weeks before the surgery? Who should I take advice from regarding rehab after surgery? I'm glad that this is a fairly common injury in dogs, and that there are lots of resources online. But that also means that there is a lot of information to sort through and decide on…
Please keep your fingers crossed for Epic, and let me know if you have any useful information. I will keep you updated on this new part of our journey. Also – this is expensive – you can help me out while learning a lot by joining our online classes that started yesterday.