The ice and snow is finally melting, and it's actually possible to train herding on the bigger fields now. And very soon the roads will be clear. It was worse on Wednesday, when I slipped and fell on my hands while dragging the trashcan down our driveway. My left hand is still bruised and hurting quite a lot. I'm glad that I've had friends here all week that have been able to help me out while Thomas is away.
We've had some great agility sessions in the riding hall, and some training sessions in the house. Sometimes I publish short clips of our training on Instagram, so make sure to follow me there – @fannyftw
Fay and Epic's puppies turned 8 weeks on Tuesday, and four of them have moved to their new homes. The fifth one leaves tomorrow, and little Bud will stay with us. I'm very excited about finding out what kind of dog he is. Tomorrow is also the day when my new Scottish puppy Nicks will come to Sweden to join us! She's 11 weeks, so will probably be a better play partner for Bud than Volt and Leet who are bigger and tougher. So many puppies. Expect lots of fun training videos. Some of the videos will be exclusive for our online classes (and you can still join!), and some will be saved for later projects, but I'll post here as well.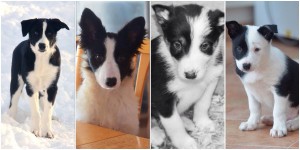 Volt, Leet, Nicks and Bud