The website has a new look and we hope that this will make it easier to read and prettier to look at. We're offering two online classes this fall: Foundation Class and Relationship Building. These classes are great for anyone wanting to learn more about our style of training and about getting great results and having fun with reward based training.
I'ts the last week of August and the weather today reminds us that fall is here. Perfect for catching up with office work after a busy weekend. Living in Sweden means spending 9 months of the year longing for summer. Here's a picture from July at my parents place by the sea. Bud loved playing in the water, but wouldn't swim at all. When we got home, I put on my swimsuit, and put a life west on Bud. With some company and help, he learned how much fun swimming was and by the end of our first session he was swimming on his own with no life west.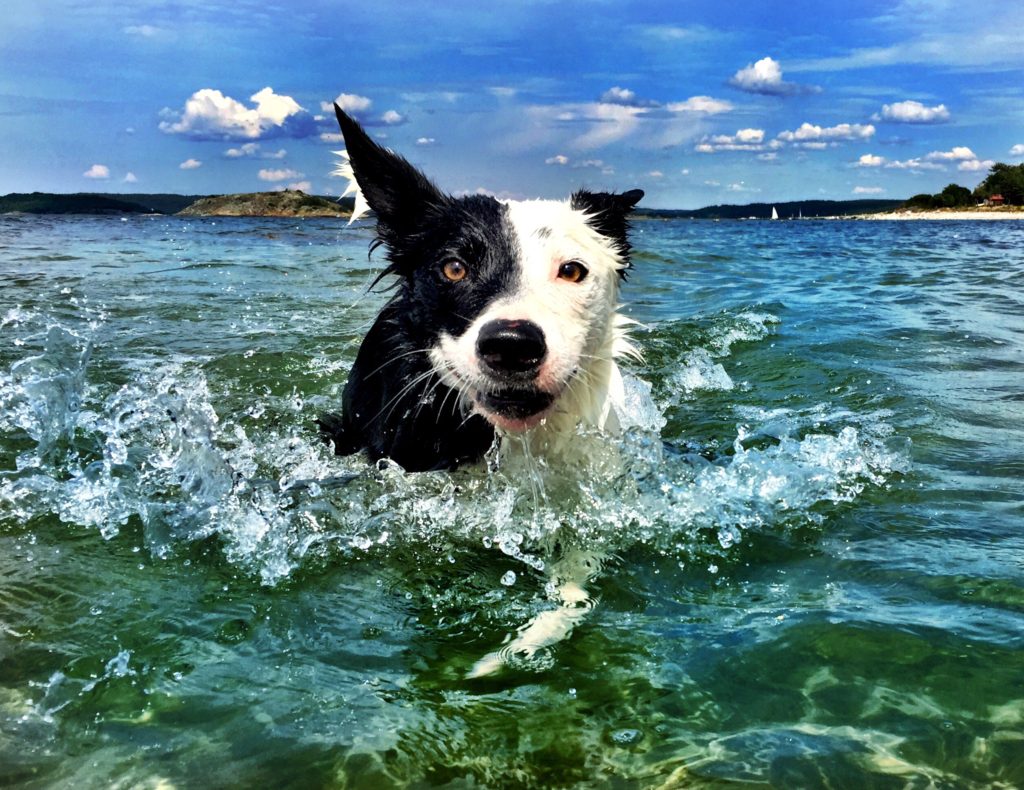 It's been a nice summer with great weather and visits from good friends. I've spent a lot of time at home while Thomas has travelled to Denmark, Norway and Finland to teach gundog seminars. Now is his busiest time with hunting and trials in the Norwegian mountains for Alot the GWP. Long road trips on narrow and winding Norwegian roads (slow, but the view is often amazing) for Thomas and his dogs.
I've had both time and weather for dog training this summer. Bud and I are slowly getting ready for agility trials, but I don't want to rush it so he'll probably wait until next year. He's now weaving 12 straight poles and is starting to look fluent and fast. He is still a dream to bring to trial sites – quiet, calm and friendly. I hope it stays like that even when he gets to run.
Thomas and Volt working sheep in the sunset last week. Bud and I are also spending time with the sheep, trying to get ready for future work and trials. He is very intense and very talented, and I've learned a lot from him and the good trainers that have helped me with him. In two weeks time we're expecting puppies! Fay is bred to Epic – same combination as my Bud. I really look forward to meet his new siblings!
I'll try to update the blog more often this fall. Tell me what you'd like to read more about! And what online classes you'd like to see here.