On Monday, we headed south after a weekend with obedience in Onigo (c on the map). I split the trip in two and drove to a B&B outside Ancona (D), where we spent the night to Tuesday. I came there at dusk, and it was very foggy, so I didn't get to see much of the very beautiful surroundings. I wend to the village of Offagna for dinner, and I think it's a beautiful village with a medieval fortress at the top of a hill. I couldn't see much due to the fog, but I got a good view from a distance when we left the B&B in the morning, and the air was clear.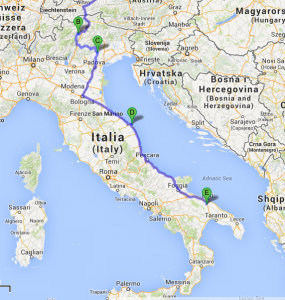 Before we headed south again, I drove to the ocean and took the dogs for a morning walk on the beach. It was amazingly nice for both the dogs and me.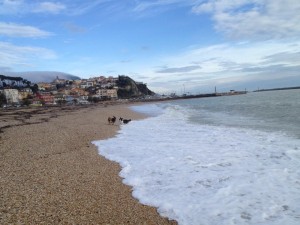 The drive to Bari (E) went well and the view over the ocean and the rolling hills in the sun was very nice! Last part of the drive was very straight and flat with almost no traffic, so driving was easy and fast. We were met by Pasquale as soon as we exited the highway, and he led the way to their place. Nice service! We live in a camper next to the house. Here's also a boarding kennel and three training areas. There's one full size agility field, one smaller agility field, and a small area for pet classes. All fenced. They have classes here in the evenings, so there's a lot of people and dogs coming and going, and the dogs in the kennels bark a lot. There's not a lot of space. This is perfect for us! We're so used to training on our own with no distractions. My dogs are not used to this kind of environment, and I think they will be so much more cool with things after this experience. They already seem much less bothered by dogs fence fighting and barking at them.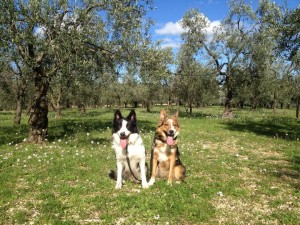 Last night, I took the dogs out and trained them next to the agility field while there was a class going on. I was surprised how well they both worked in a brand new environment, with a lot of barking dogs and new people. Today, we've had two sessions on the agility field. My dogs haven't done agility in many months because of rehab, so we're taking it easy. All three of us are very happy to be running a bit of agility again! I was happy to train in the sun, and even had to take my sweater of. The dogs were clearly not used to 15+ and sun, and wanted to go in the shade when they had a break.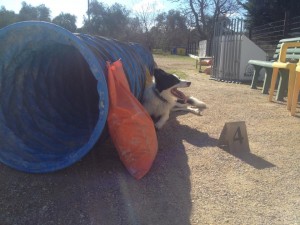 The biggest challenge is to find somewhere to walk the dogs. I don't think anyone here walks their dog outside of the property. I did find a nice walk yesterday (once we passed the neighbor's barking dogs behind the fence), but it felt a bit like trespassing on private ground (even though we kept to the road). I also heard that there might be groups of stray dogs there, and I don't feel like meeting them with my dogs. Well. I have to find a way to walk the dogs and to warm them up before exercise.
Another challenge is that Squid came into heat already on the ferry a week ago. So far I don't have any problems with it, even though I can't leave her and Epic alone at any time. It will get worse during this week though, and I don't have much room in the camper to keep them separated. If I hadn't checked and seen blood, I wouldn't have known that she was in heat. I haven't seen a single drop of blood on the floor after I checked her, and Epic is not very interested in her.