We've been travelling a bit in the past week. First, we went to the west coast for herding trials. My parents live close by the , so we could stay there and spend some time with them. I also had time to visit my elderly grandparents (94 and soon 98 years old!) in Gothenburg. My grandmother just moved into a retirement home, and seemed genuinely very happy with that. My grandfather is still in their old apartment, waiting for an apartment to open in the same home. Herding trials were difficult, but Thomas managed to get a decent placement with Sarek on Saturday (8th out of 61 dogs), which gave him some points towards national championships.
Bud seems to get better and better with travelling. He's been very car sick and has almost panicked when being put in the car. A combination of a bigger dose of meklozin, age and more exposure seems to have helped. He still doesn't like it, but he doesn't throw up and he sometimes even jumps in the crate on his own with some bribing. He was very good at my parents house, where he had to stay with the grown up dogs in the laundry room. He was quiet and relaxed all the time and slept all night.
Weather has been unusually cold for the past month. It has been the coldest May in 50 years, and June hasn't started much better. It's either cold and rainy, or sunny and very windy. This is what my agility field looks like most of the time: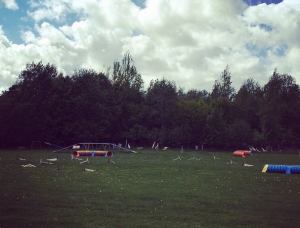 Yesterday, I shot some video of Thomas training Alot. She is 4 months old and looks really nice. She has a lot of own opinions and is very forward. At the same time, she is very focused on her work and learns very quickly. In this video, Thomas is working on some retrieving (he started with having her take the dummy to get sent to a bowl of food, then we tried having her take it from me and run to Thomas for the first time. It was hard to handle dog, dummy and camera at the same time… I'm very impressed with Alot's heeling. I wish my dogs were heeling that nicely! She also has an impressive sit when she's distracted by other things (my dogs, in this case).
Do you want to work on the skills that Alot shows in the video and learn more about how to build great rewards and structure your training sessions and daily life to build a great relationship with your dog?
Check out Relationship building online starting July 27th.